Cup Match
2019 CUP MATCH TEAM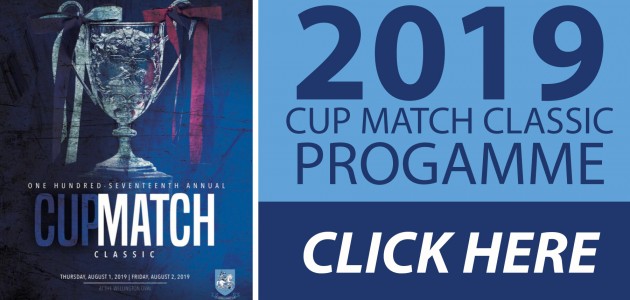 Lionel Cann – Captain
Onias Bascome – Vice Captain
Treadwell Gibbons Jr.
Temiko Wilson
Macai Simmons
Allan Douglas Jr.
Zeko Burgess
Oliver Pitcher Jr. – Recalled
Justin Pitcher – Recalled
Rodney Trott – Recalled
Mackih McGowan – Colt
---
 WHAT IS CUP MATCH?
The only country in the world with a 2-day Public Holiday to play cricket, Cup Match stands like a shining beacon maintaining its unique culture founded by our forefathers over a century ago.
The significance cannot be equaled by any other sporting or social event in Bermuda.
Cup Match is more than a game of cricket. It is truly a cornerstone of Bermuda's past. It brings the island together for an occasion of passionate commitment to the game in a festive and joyous atmosphere.
It is important to note that upon Emancipation, the former slaves of Bermuda had no homes, no schools, and no jobs; they were voteless and landless. Penny-less, the freed slaves and their indomitable spirits, formed themselves into Friendly Societies and Lodges to provide for their own well-being. Those same Societies and Lodges spearheaded the annual observances of that historic August 1, 1834 date. Thereafter, our forefathers celebrated their freedom and broke their shackles of the past by having parades and divine services. Later, the emphasis shifted to the sports field with annual picnics cum-cricket matches involving the lodges from the East and West.
Percival St. George Ratteray, a long serving member of Somerset Cricket Club and one of the most foremost authorities on Cup Match wrote, "It was the game in 1901 between the two brother Lodges that sparked the beginning of Cup Match. The game played on the Royal Engineers ( or Garrison) Field in St. George's was exciting from beginning to end, with one side winning by one run with the last man in." Subsequently, a meeting was held between the two groups and the idea was made that a Cup be played for annually. The first game of this historic event occurred on June 12,1902, at The Royal Naval Field in Somerset.
Steeped in tradition and history reaching back to 1902, Cup Match is held over 2 days. The first day embraces the celebration of Emancipation Day and the second day, Somers' Day, commemorates the discovery of Bermuda by British Admiral Sir George Somers in 1609.
We, the Officers and members of Somerset Cricket Club and St. George's Cricket Club, take this opportunity to pay homage to the founders of Cup Match. They were men who set a good example by playing the game and playing it well. Cup Match, our National Institution, held alternately at SC.C. and St. G. C. C., is a monument to our forefathers' vision and achievements – brilliant cricketers, keen sportsmen., administrative geniuses, and great pioneers.
---
THE CUP
Many years after the abolition of slavery in Bermuda, enthusiastic men from Somerset and St. George's met in friendly rivalry and held celebrations of Emancipation by holding annual picnics and games –especially cricket.
After an exciting and exhilarating match (St. George's won by 1 run) in 1901 between the two major Friendly Societies, the Grand United Order of Odd Fellows in St. George's and Somerset, a suggestion was made that more interest in the cricket competition between the East and the West would be stimulated if a cup could be purchased and played for annually.
At the first combined meeting of the Societies, all members agreed and it was decided to send to England for a cup.  Members of both Societies contributed six pennies each to defray the cost of the cup. Interestingly enough, a Mr. Meyer from St. George's offered to buy the cup for the Lodges, but the members refused the offer. They wanted FULL ownership- a cup they could call their own!
Mr. Henry Cann, an avid spectator, trusted administrator, and the first Secretary of Somerset Cricket Club was given the responsibility of ordering the cup. He sent off the specifications to Messrs., Gold Smith & Company in London.
When Mr. Cann received the notice from the Somerset Post Office to say that the Cup had arrived he was unable to pick it up before it closed. So, he asked his wife Mrs. Mary Cann, to pick it up for him. Curiousity got the better of her and she not only picked up the package but opened it and looked inside.  And so it was, a LADY was the first to see this notable Cup -much to annoyance of her husband.
The exquisitely designed sterling silver Cup was purchased in 1902 for 20 Guineas (420 shillings), and now priceless, is more than the symbol of cricket supremacy in Bermuda.
It is in a way, the heart and soul of a once enslaved and downtrodden people who were confident of their innate abilities to rise to the top and excel in all their endeavours. It is a sterling silver symbol of Freedom and the right to own, rather than be owned. It is a symbol of independence and free-mindedness. The idea of THE CUP MATCH CUP was the combined ingenuity of skillful, imaginative, and far-sighted players, supporters, and administrators of whom all of Bermuda should be proud.
---
FOR YOUR INFORMATION
THE FIRST MATCH was played at the Royal Naval Field, Somerset, on June 12, 1902. The first game at the Somerset Cricket Club venue was in 1949. In the East End, Cup Match was played at the Garrison Field until Wellington Oval was opened in 1921.
THE FIRST DUCK: This dubious honor belongs to W. Bassett of Somerset in the first 1902 match. Bassett was also the first to bag a pair when he was run out in the second innings.
THE FIRST CUP MATCH ON A TURF WICKET was played at Somerset in 1971. Wellington Oval followed suit in 1972. Previously, wickets were made of clay or cinder, and later concrete, covered with matting.
THE YOUNGEST PLAYERS: No precise records have been kept but Kitchener Johnson (1916), Amound Hunt (1919), Noel Gibbons (1971), and Clay Smith (1987) are among those who were 16 in their colt year.
LONGEST CUP MATCH CAREER: Again, no precise records are available, but Alec 'Cocky' Steede is thought to have had the longest Cup Match career. He made his debut as a teenager and continued playing until 1951 when he was well into his 40s.
MOST SUCCESSFUL CAPTAIN: As captain of St. George's from 1961 – 1969, Calvin 'Bummy' Symonds won eight Cup Matches and drew one. Four of the victories were by an innings, two were by 10 wickets, another by 121 runs, and one by 7 wickets.
BEST BOWLING PERFORMANCE: Clarence Parfitt took 6 or more wickets in an innings eight times, claimed 9 for 47 in 1976. As a colt in 1965, Parfitt took 8 for 23 in the second innings and 7 for 20 in the first innings.
FIRST STRIKE: In the 1953 match, Kenneth Smith of St. George's claimed a wicket with the first ball of the game, having Somerset opener W. Wilson caught by Calvin Symonds. Also that year, no extras were recorded by either team in the two innings on the second day.
BIGGEST WINS: St. George's won by an innings and 65 runs in 1962, and by an innings and 49 runs in 1926. Somerset won by an innings and 47 runs in 1942 and by an innings and 11 runs in 1948.
NARROWEST WINS: The most exciting years were from 1922 – 1924. Somerset won by 10 runs in 1924, and 17 runs in 1923. St. George's won by 25 runs in 1922.
LOWEST SCORES: Somerset could only muster 24 runs in 1902; St. George's scored just 28 in 1918.
TIED SCORES: Both teams scored 73 runs  in their first innings of the inaugural Cup Match in 1902, and both scored 71 in the second innings of the 1919 Match.
HIGHEST INDIVIDUAL SCORE: 186 runs (2001) held by Somerset's present captain, Janeiro Tucker. Previous holders were Lloyd James 173 n.o.(1962) and 157(1961), and Winton Edwards 170 n.o. (1950).
CUP MATCH 'YEAR-ABOUT' began in 1995 in St. George's and since then, the venues have alternated.