Remembering Louis "Red" DeSilva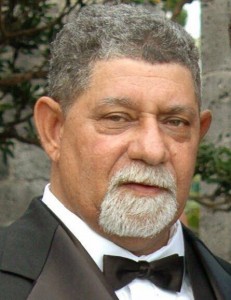 Louis Ricardo DeSilva, J.P was born on March 4th 1947 in a small room which overlooks shinbone alley. Louis grew up as a Shinbone Alley Cat in the heart of St. George's and St. George's has always had his heart.  He has been involved in sport from a young age and played football for the St. George's Youth Club, the Wellington Rovers, St. George Colts, and only after a politically motivated suspension for the Devonshire Colts. He also played a little cricket for St. George's Cricket Club. His greatest asset in life is that he is always willing to get involved in whatever capacity he is needed. This willingness led him to a role in the management committee at the St. George's Cricket Club at the early age of 18 and he has served there in some capacity or another ever since. He has held club positions such as management committee member, selection committee member, vice president and president. His fondest memory was being the president during the centenary of Cup Match. Red, as most of us know him, loves his parish and not only served St. George's in the sporting arena but, also as an elected member of the Corporation of St. George's. Here he served for 12 years as a common councilor, alderman, and deputy mayor.
On March 28, 2004 he stepped down from his elected role to fill the full time position as town manager. Serving his community became second nature as over the years he held positions on various government boards such as the Ports Authority Marine Board, Tourism Board, the Public Transportation Board, National Drug Council Board, the Board of Trustees of Bermuda's public golf courses, and the St. George's Preservation Authority. As an avid political activist he also became a member of the PLP and served in both branch or constituency level and as a member of the candidate selection committee.  Whilst at the helm of the St. George Cricket Club he strived to improve the youth programs, seek alternative means of and increase revenue, encourage membership, make the club a family friendly environment, and make Cup Match an unforgettable and magnificent experience for all those who wished to attend. If you have ever had the pleasure or annoyance (as it can definitely be seen as either) of speaking to Louis on the topic of Cup Match you will watch his face glow as he recalls years and memories that he has experienced during his favorite holiday season. As he went about Cup Match planning it was his aim for all to have those same fond memories.
The facility at St. George's Cricket Club was always criticized because Cup Match goers could not peruse the entire circumference of the field. Louis and his team partitioned Government for an agreement to get a strip of land along the Southern Boundary Wall and with the assistance of Dame Jennifer Smith. The 100th Cup Match became the first year people were able to complete a walk around the grounds. They secured sponsors and had give-aways during the cup math events, secured more seating for the general public, upgraded the facility  by having the bathrooms redone, set up a new sight-screen, repaired the auditorium by replacing panelling and flooring all in an attempt to have the Cup Match holiday celebrated by getting the public to come out to the event. He is quoted as saying "Cup Match was an important part of peoples lives so important that some people would not go to work; not because they were lazy, not because they were irresponsible, but because this was a day they decided they would come out and celebrate together and have good fellowship together." This essense of Cup Match is what he pushed to keep and encourage. He could be heard over the airways on talk shows, in the news media, to whom ever would listen, inviting people to the "Blue Heavens" and of course giving the Somerset fans and team his regular Cup Match banter, all in an attempt to keep the spirit and tradition of Cup Match alive and well in Bermuda.
Funeral services for "Red" will be held at 2pm on Monday, September 5, 2016 at the St. George's Seventh Day Adventist Church, Secretary Road, St. George's. Wake will follow at the St. George's Cricket Club.