Player Profile: Leroy (Tubby) Richardson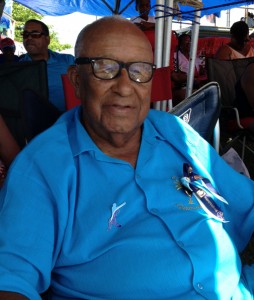 "I made up my mind that if I didn't excel at bowling,
then I would do so with my fielding,
and if I did not excel there, then I would excel with my batting."
Name: Leroy Ernest Richardson | Date of Birth: June 30, 1921 | Nickname: Tubby
---
Start in cricket: I played one game at school versus Elliot Primary and got a duck. I played in the first Colts Cup Match in Somerset when I was 18. That was in 1939 when I also played my first game for the St George's CC. At age 20, I was playing in the Cup Match classic.
Length of cricket career: I played 11 years in the Cup Match, four as skipper. My first year was in 1941. I played until 1945, then again between 1949 and 1955.
Role on the team: I was an all-rounder
Childhood memories with the game: I played a lot of rubber ball cricket on Wellington Hill, at 'Dickie' Bartram's yard and 'Fielding' Swan's residence. In 1940, while I worked at the Wellington grocery. I also played a lot of cricket on my lunch break between one and two o'clock with Walter Darrell Sr (pilot). He made me come by the Oval with 'Sonnyboy' Smith, who would keep wicket and he got me started bowling at one stump and put a chalk mark down at a good length.
Teams played for: Besides St George's, the only other team I played for was Western Stars (1961-64).
Favourite local match in which I played: In 1941, during my first year as a colt at the Royal Navy Field, I caught 'Champ' Hunt when he was on 104. He was actually bowled and caught. That was the same year St George's dropped 'Cocky' Steede who had taken 100 Cup Match wickets. Walter Darrell convinced the selectors to try me.
The other game that stands out was the 1950 match when Somerset made 402 for 6 (Timmy Edwards made 170). However, in the second innings we reduced them to 130.
Also, in 1951 my first year as captain, when I had figures of 4 for 22 and 5 for 34.
Best international feat: In 1955, a team from the West Indies came here with five Test players, including Sir Garfield Sobers. We scored 110, and then dismissed them for 103. Carlton Welch was the captain and our team included such notables as Lloyd James, Sam Paynter and Alfred Hall.
Favourite venue: Wellington Oval, naturally.
Favourite international player: Brian Lara.
Number one supporter: A man by the name of Everett (Bo) Bascome. He was always at the point boundary shouting things to me.
(It is interesting to note that Mr Richardson can always be found watching the classic from this very same vantage point today).
Walter Darrell also helped me a lot, even backing out of games to let me play.
Pre-match routine(s): I would take a bath in hot water, as hot as I could bare it and would get a rub down with Minard's linament, and something to cool me down.
Favourite dish while playing: Whatever they put in front of me.
Biggest regret in your career: On December 26, 1946, I injured my knee and was out of the game for a few years. In May, 1949 I went up to John Hopkins hospital and I was able to play again in 1951.
Also, during 1949 my little finger on my left hand was accidentally cut off while working at a carpentry shop. It was given back to me in a match box, three days after I got out of the hospital. Nonetheless, my career continued.
Any superstitions: None.
Funniest thing you have seen in cricket: During my first Cup Match at the Royal Navy field, I weighed only 123 pounds, and I was wearing a green belt. I told the skipper 'Bosun' Swainson that I wanted to go off and change my belt. He told me to go ahead. Amon Hunt, the captain of Somerset, stood on the boundary and told me that I dare not come off the field, and he wouldn't let me do so. As it happened, I had to send Jamesy 'Peets' Smith to get my belt and was made to change it on the field. In those days the senior players of Somerset could be quite intimidating, so I obeyed his command.
Hobbies: I actually liked football better than cricket.
A key to your success: I made up my mind that if I didn't excel at bowling, then I would do so with my fielding, and if I did not excel there, then I would excel with my batting.
Advice to today's players: Number one, the deportment needs to improve. The excessive noise that we see with almost every ball, and the foul language, needs to go.
Motto you believe in: Just one day at a time.
Interview by Wendell Smith, former StGCC player and captain